Businesses, cities cashing in on total solar eclipse crowds
Businesses, cities cashing in on total solar eclipse crowds
BARTLETT, Tenn. (AP) — Millions of eyes will be fixed on the sky when a total solar eclipse crosses the U.S. in August, and it's likely many of them will be safely behind the special glasses churned out by a Tennessee company.
American Paper Optics ramped up production for this year's eclipse and expects to make 50 million paper and plastic eclipse glasses. John Jerit, the company's CEO and president, said they began preparing about two years ago. During his almost 27 years making safety glasses, he's only seen one total solar eclipse, in France in 1999, but will be going to Nashville for this one.
"It's a life experience," Jerit said during an interview at his company's office in the Memphis suburb of Bartlett. "When that two minutes is over, or however long you've got, the question that you really want to hear is, 'When is the next one?'"
His company is one of many businesses — hotels, campgrounds and stores — taking advantage of the total solar eclipse — when the moon passes between Earth and the sun. The moon's shadow will fall in a diagonal ribbon across the U.S., from Oregon to South Carolina. The rest of the U.S. will experience a partial eclipse, along with Canada, Central America and a bit of South America.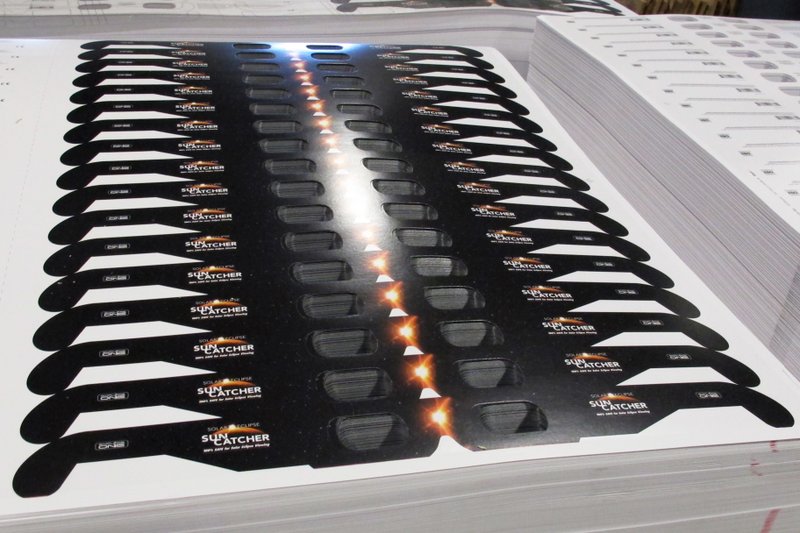 Cities and towns along the path of totality — where there will be about 2 ½ minutes of darkness — are gearing up for the crowds. St. Joseph, Missouri, population 76,000, is in a prime location and officials are bracing for tens of thousands of eclipse watchers to descend on the city, said Beth Conway, spokeswoman for the St. Joseph Convention & Visitors Bureau.
The city's restaurants, gas stations and stores are preparing for the onslaught — the city's largest arts and music festival with the nickname "Total Eclipse of the Arts" is scheduled on the weekend leading up to the eclipse on Monday, Aug. 21.
"This is essentially our Super Bowl," Conway said. "If we see anywhere near the amount of people that they're telling us, it will probably be the biggest event in our history."
The city has gotten into the act as well, selling eclipse glasses, posters and blue and yellow T-shirts decorated with a drawing of the city's skyline and an iconic railroad bridge, and with the slogan "Right in the Middle of it All."
Conway said a benefactor donated 100,000 safety glasses designed for the city and proceeds are going to local museums and charities.
Sales have been "amazing, phenomenal," she said. "It's just blown our minds."
At the Tennessee factory, a constant whirring sound fills the factory as large sheets of paper are fed into machines. One cuts out the eyeholes in the pre-printed frames, another inserts the protective film lenses. Then the glasses are punched out of the sheets and packaged.
About 50,000 glasses can roll off the assembly line per hour, Jerit said. Paper glasses cost about 20 to 25 cents to make, and they are sold to distributors for about 45 cents, but prices vary depending on order size. They're sold retail for about $2. The plastic versions are about $15.
Staring at the sun during an eclipse — or anytime — can cause eye damage. The only safe way is to protect your eyes with special filters in glasses or other devices. NASA lists four companies, including American Paper Optics, whose glasses meet international standards.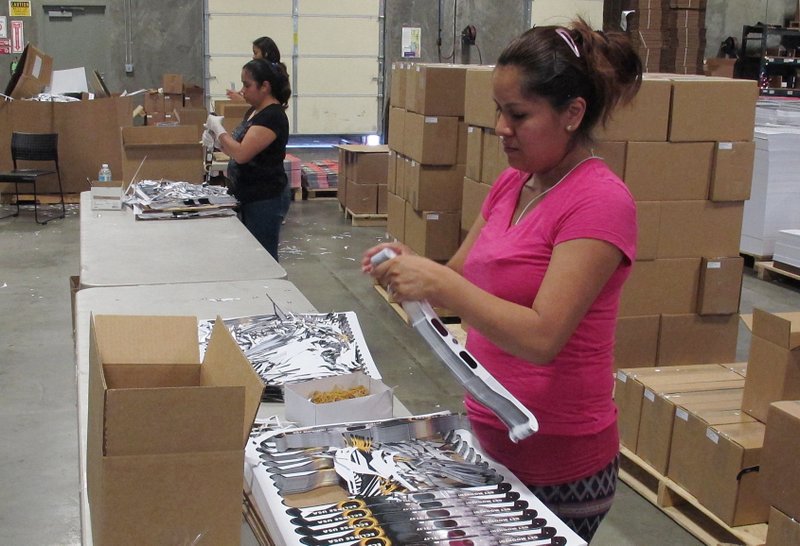 "It's eye protection for enjoyment," said Jerit, whose main business is making 3-D glasses.
Besides retail outlets, the company sells the glasses to cities, universities and space-related entities like NASA and the Adventure Science Center in Nashville. Some are custom-designed, like the ones for St. Jude Children's Research Hospital which are decorated with children's drawings. Under the wacky category: glasses to make the wearer look like an astronaut, space cowboy or a green alien.
Green Acres farm near Casper, Wyoming, is one of the many farms and parks welcoming eclipse watchers. The farm, which normally features a corn maze and other children's activities, has been turned into a campground with 300 campsites in prime eclipse viewing territory.
"We have people coming from Australia, Belgium, several from Canada. I have a guy from England coming that's seen 17 eclipses," said manager Dwain Romsa. "We're a little more remote than some areas. It takes more effort to travel here."
___
Associated Press writers Jim Salter in St. Louis and Kristin M. Hall in Memphis, Tennessee, contributed to this report.